Kate
Auction HIP #20
OWNER INFO:
George White
406-591-9678
ropnred@yahoo.com
MULE QUALITIES:
Rope Heel - Finished
Reining Horse - Prospect
Kid Horse - Started
Rope Calves - Finished
Ranch Horse - Finished
Barrel Horse - Prospect
Parade Horse - Finished
Cutting - Prospect
Trail - Finished
MULE DISPOSITION =
1=Bombproof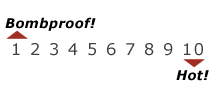 MULE DETAILS:
| | |
| --- | --- |
| Sex: | Mare Mule |
| Color: | Dun |
| Height: | 15.3 |
| Weight: | 1200 |
| Age in Years: | 8 |
DESCRIPTION | Kate
Kate is a very nice saddle mule has been from the country to town and back, used in the sale barn to sort and she is quiet and works gates very well. I have roped on her, drug calves, doctored and tagged calves outside on her, been used just about everywhere, saddles up the same everyday and you don't have to be a cowboy to ride her. She rides off by herself and is good around cattle, dogs and people, and is easy to catch she will meet you. Kate is a pleasure to be around good to shoe and clip and anyone can ride her the best part about her is she is Gentle, Gentle, Gentle.